Unblock your


Crypto

account

Binance
FTX
Coinbase
Kraken
KuCoin
Other
...or return your money back
Apply for Unblocking
We do not take any access to your accounts
successful
cases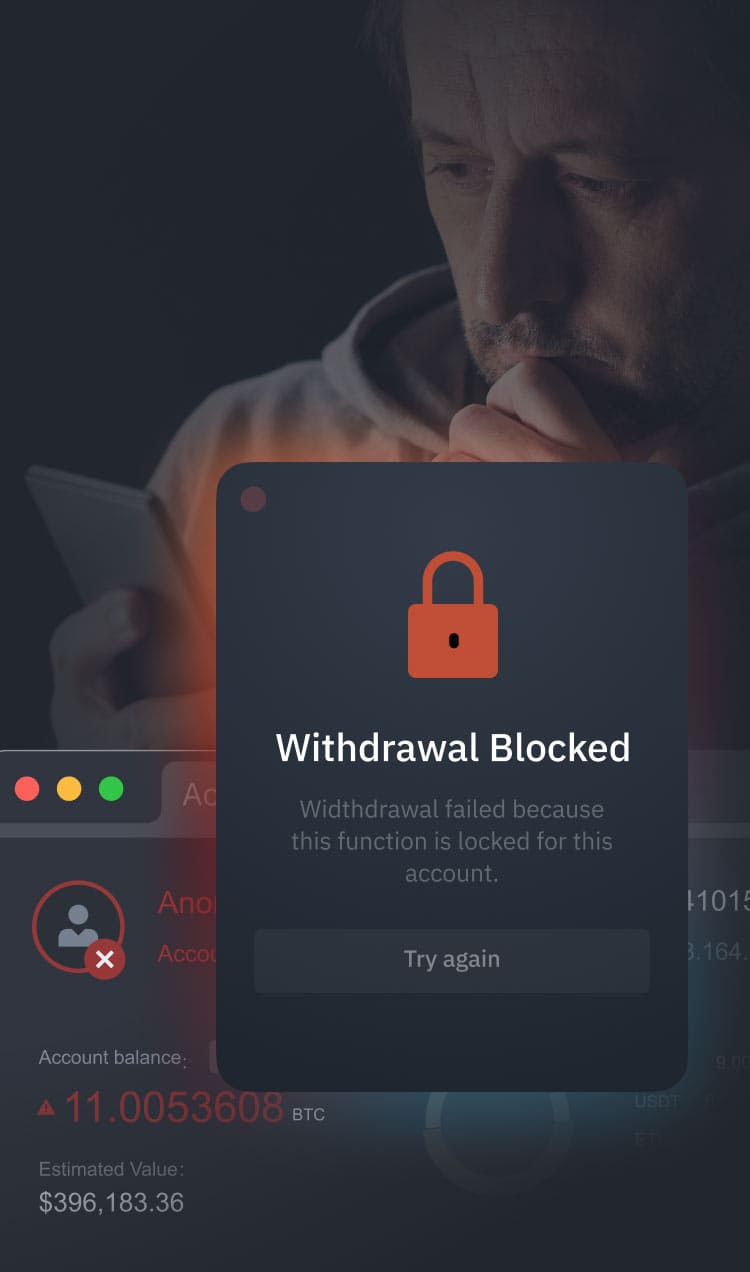 Unblock trading
accounts in few days
We take care of
communication & documents
Over 60 successful
cases of unblocking of
accounts
100% money back
in case of failure
Result oriented
approach to compliance
Check your account for unblocking potential
Why it is safe to unblock accounts with AMLServices team?
We do not take any access to accounts

All communication is done by You from your account

Only you have access to your accounts all time
How compliance team unblocks your account?
Gather carefully all information about your case from the day when bloking was done
~ 2 days
Prepare qualified answers for comliance team of trading platform
~ 3 days
Communicate with support team about unbloking of account
~ 3-10 days
Get unblock of account and withdraw funds
~ 1-2 days
calculate terms and price
We do not take any access to your accounts
FAQ
What is money laundering?
Money laundering describes the process by which criminals make 'dirty' money obtained from their criminal activities look legitimate, or 'clean'. They aim to make this dirty money look like it has come from a legitimate source, and therefore difficult to connect with its criminal past. Once that is achieved, criminals can introduce their dirty money into the financial system undetected.
What is terrorist financing?
Terrorist financing is the financial support of terrorists or those who encourage, plan or engagein terrorism.
Terrorist financing may involve funds raised from legitimate sources, such as personal donations and profits from businesses and charitable organisations. It may also be drawn from criminal sources, such as the drug trade, the smuggling of weapons and other goods, fraud, kidnapping and extortion.
People who finance terrorism often use similar methods and tools to those used for money laundering.
Know Your Customer (KYC) refers to the process of verifying the identity of customers, either before or during the time that they start doing business with the company. The term "KYC" also references the regulated bank/financial institutioms customer identity verification practices to assess and monitor customer risk.
Why do exchanges block user accounts?
Sometimes this is just a temporary measure for additional verification, when the exchange suspects that the user is using his account for other purposes. You just need to correctly answer the support questions. We specialize in consulting on such cases.